Our Beliefs
We as Cavalier breeders are dedicated to improving the breed.  We believe in breeding healthy and quality Cavaliers. It is our intention to breed better Cavaliers than the ones we have, so we carefully match the parents based on how we can improve upon what we have. We breed with noteworthy dogs that have the characteristics that we need, to breed better puppies. Using the techniques identified by Pat Hastings, we evaluate our puppies on their structure at 8 weeks of age. At this time we identify which puppies are possible show or breed potential dogs.
We believe that there is a responsible counterpart to breeding the best we can: we require that anyone who owns one of our non-show quality / non-breeding quality puppies agrees to spay or neuter the puppy as part of our puppy purchase contract.
We believe in breeding healthy Cavaliers just as strongly as we believe in breeding Cavaliers of good quality and good temperaments. We ensure that the fathers and mothers of our puppies have healthy hearts, hips, eyes, and patellas . all of which is tested by specialists in his/her field.  If we find a genetic defect in one of our dogs, we will not breed that dog, and that dog will be spayed or neutered.
We believe in carefully selecting the best possible homes for our puppies. We do this by observing a puppy's personality and needs from birth.  At around 8 weeks we temperament test our puppies to determine their needs and if they will be good therapy dogs, obedience dogs, etc.  We ask for applications and in-person meetings from prospective owners. It is an exhausting process, but this helps to match the puppy with the most appropriate owners and living situation. As a result, we don't have a "waiting list" for puppies, nor do we make promises to "hold" a certain type of puppy for anyone. It's really all about what's best for the puppy.
We believe that our dogs are part of our family, and so are the puppies we raise. By virtue, we also believe that owners of our puppies are part of our extended family. Owners of our puppies should expect to hear from us periodically, and we in turn expect our puppies' owners to remain in touch with us.
We believe that puppies should be with their mothers for at least 10 weeks before going to their new homes, for a proper upbringing. During those 10 weeks, we do all sorts of things to promote social, desensitized, well behaved puppies. We let the mothers do their mothering, and we step in to help if a puppy needs any extra socialization. We have puppies' dew claws removed, to avoid unnecessary risk of injury later in life. We ease the puppies from soft to solid food. Following the vaccine protocol of renowned veterinarian Dr. Jean Dodds, we ensure that the puppies are immunized, but not over-immunized. We begin crate training at 8 weeks old. We socialize the puppies with many people as well as with multiple other dogs. As we mentioned before, we learn as much as we can about each puppy, so that we can ensure they go to the best homes possible.
We believe in feeding our dogs the best food possible. In most cases, that's a blend of carefully prepared raw food (raw meat, organs, raw veggies, and such) plus high-quality kibble. We believe that the kind of dog food you find at grocery stores or drug stores isn't fit for any dog,  - due to the use of corn, byproducts, and other mysterious ingredients. We also are quite willing to share our knowledge of proper Cavalier nutrition to ensure that all Cavaliers, not just ours, can eat well and live healthy.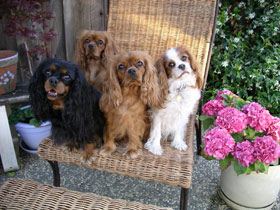 We believe in Cavaliers' heritage. They were bred to be companion dogs, and need regular access to and interaction with humans, they are meant to be part of the family.   As a result, we won't leave our dogs alone for more than 4 hours at a time; we adjust our work and social schedules to ensure this. Likewise, we won't sell a puppy to someone unless they're clear that we have this expectation of them as pet owners, too. We also believe that Cavaliers aren't just companions, but that they are also undeniably spaniels. They love to chase and flush as their role in the hunt.  We use  this prey drive while teaching fetch, which can later lead to the team approach with obedience and rally.  We also encourage our puppy buyers to train in obedience, rally and agility when age appropriate. 
Finally, we believe that Cavaliers are "fun, with fur". We want our Cavaliers, and all Cavaliers, to be healthy, happy, well-socialized, and well cared-for. As companion dogs, Cavaliers match the lifestyles of their owners - so it thrills us to see Cavalier owners doing so many things with their dogs - traveling, running, hiking, being couch potatoes, going out on the town, and so forth. A happy Cavalier usually means a happy owner, and vice-versa.